HHHeeeeeellllllooooooooooo out there!
Welcome to the weekend! Yahoo!
It's Saturday - so it's time for another
'Just Us Girls Challenge'
. This week's 3-D challenge comes from my team mate
Mona Pendleton
.
Here's her challenge: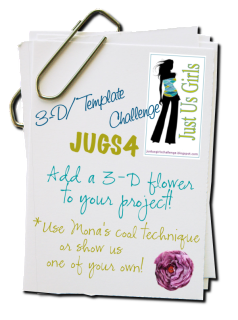 You MUST see
her video
-- she makes it look so effortless, and what a nice job she did on the video itself, definitely worth it to watch!
I don't have any of the Nestabilities blossom dies, I only have the old "Nesting Flowers" one, and it worked ok, but I would much rather use the ones with more 'layers' in between, I think.
I brayered my tissue with 3 different colors - Lemon Tart, Summer Sunrise, and Berry Sorbet.
Cut out the various sizes with my nestabilities, and got to work.
I can't decide what it is, but something isn't sitting right with me -- if you have any suggestions, let me know, ok??
Be sure to check out the rest of the team's projects today -- they are no doubt, terrific!
Thanks so much for stopping by - hope that YOU will play along with us, can't wait to see your flowers!!! You could be the next Chic of the Week!~ A BIG CONGRATS to
Gwen Snater!! Gwen is our Chic of the Week for the JUGS 3 challenge!
Be sure when uploading to use the keyword JUGS4, and link up your project to the Mr. Linky on the challenge blog!!
Have a super day -- we've got some early Halloween events planned for the weekend -- should be fun!